Something should be said about Elliott and the Moon...

He made an impression on me the first time I saw him play a show at Portland's La luna in '95.







The moon made an impression on me the first time I saw Her face.




Elliott's music makes me think....his words seem to be the subtext of a Yeats or Blake poem but dated: 1990's. Elliott's show was the first show I had ever walked away from feeling moved and changed. When I see him play now, I remember that time; it is a frozen souvenir that melts whenever I hear his music and listen to the words. It is a continuous cycle of frozen to melted, melted to frozen and so on. To tell you the truth I feel more alive when I see bands like ThaMuseMeant or Golden Delicious However, when I hear Elliott's music it is an entirely different experience, almost one of re-birth or the feeling you have when you return from a deep slumber of dreams.

Either/Or and Roman Candlewere the two albums written in Portland, Oregon while he strolled around below the northwest moon. It seems that there may be a connection between him and our closest planet. "The moon is a light...bulb...shining, but it won't come down for anyone..." The songs on these two albums keep me from drifing too far because they are a perfectly described reality mixed with his own reason...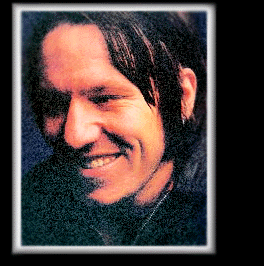 Have a listen...

say yes (wav)

speed trials (wav)

miss misery (wav)

independance day (real audio)

waltz#2 (XO) (real audio)

Elliott's live cover of
Lennon's 'Jealous Guy' (real audio)

more elliott can be found here:
skylash's elliott smith site